The way to dissolve communication barriers
Companies and public authorities generally need to exchange information with external entities. In-house IT infrastructures, which have the advantage of meeting security requirements and the demand for maximum data sovereignty, create limits in cross-company communication exchange. Often, because of this hurdle, communication solutions from the consumer sector, such as Signal, Telegram and WhatsApp, are used. However, these cannot then guarantee the data sovereignty and security of the resulting data and exchanged information.
It is even more fatal when applications are used that IT administrators cannot manage, creating an intangible shadow IT. In addition to security gaps, this results in fragmented and thus inefficient communication. But it doesn't have to be this way. All it takes for secure information and communication exchange across company or organizational boundaries is an interoperable solution that links different clients from different servers, creating inter-server communication. This means maximum security while maximizing productivity with other organizations.
What does interoperability mean?
Interoperability, also called Federation, is generally the property of a system through open interfaces to cooperate and communicate specifically with other systems or programs. It enables information to be exchanged between two or more devices or systems and used in compliance with defined rules. In the process, content and data remain unchanged.
Teamwire Federation: What does interoperable business messenger mean?
With Teamwire Federation, we are implementing a technological innovation within the entire business messenger market that many of our customers have repeatedly requested. It allows autonomous organizations with independent servers or infrastructures to be securely connected to each other through server-to-server communication. Federated companies or server networks can communicate via Teamwire Messenger in the form of text and voice messages, as well as exchange images, documents and videos. This makes us the first messenger provider to implement an interoperable interface between different entities, allowing two independent systems to be linked together.
What steps are required to implement Teamwire Federation?
Teamwire Federation is 90% backend, so the impact on the user experience and user interface is minor. Much more critical is the technological innovation for IT administrators who can use Federation to interconnect other organizations' servers. Teamwire Federation can be implemented via both on-premises and private cloud deployments. To enable it, the super admin or IT administrator creates a Federation profile via the Teamwire dashboard under the new 'Federation' section. This includes the public client name, the client URL, and a private key and public key generated during creation. The Federation profile can be exported via a button. The public key, a coded transmission key, is required to securely connect the various servers with each other.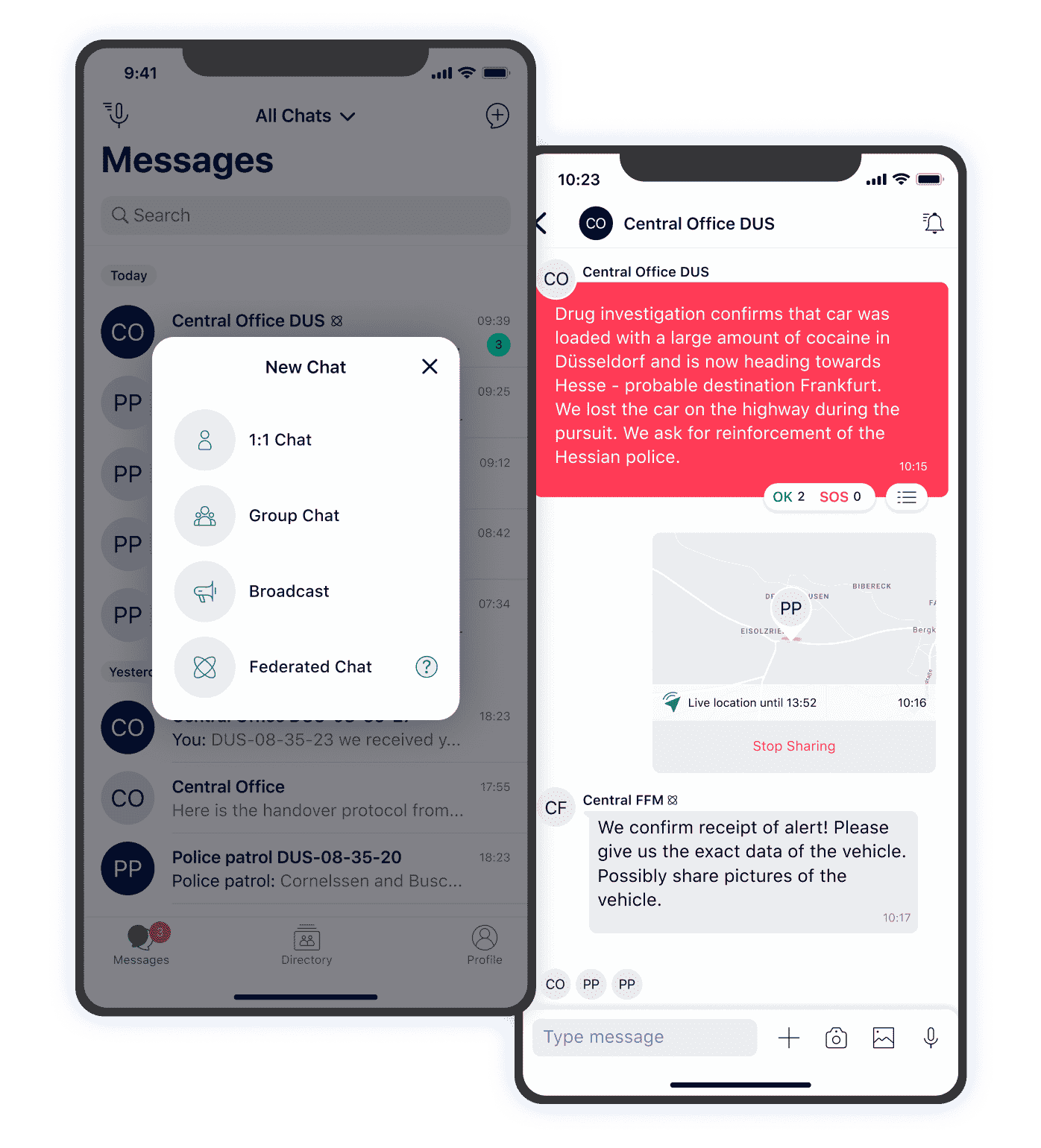 Integration must take place in both directions. After adaptations in the IT infrastructure, which vary from company to company, the public keys of the corresponding instances are exchanged. In concrete terms, this means that the public key of organization A is entered into the dashboard of organization B and vice versa. The IT administrator can then activate or enable selected users for communication with the federated organization. The IT administrator maintains control over user management at all times, i.e., which users and groups are federated and which are not. Further security levels, such as each chat having a private key, are also implemented. All messages are stored and archived on the backend of both Organization A and Organization B.
Teamwire Federation not only dissolves the communicative boundaries between enterprises, thus increasing network productivity, but also meets each organization's compliance guidelines while maintaining the highest level of data sovereignty and security. At the same time, federated server networks are more resistant to hacker attacks. In the worst case, only the attacked server fails. With a cloud solution, all connected companies would be affected.
What do users see as the changes?
It is important to us that Teamwire remains just as user-friendly and intuitive as possible. However, there are a few minor adjustments. In the directory, federated organizations and their employees are displayed with their domain (e.g. @backend.de). In the chat menu there is 'Federated chat' as a new selection option. The chat and all messages are marked with an additional icon. In the federated chats, text and voice messages can be exchanged and images and videos can be sent. The use of other Teamwire Business features – such as sharing location and creating polls – will be integrated in future releases. A help icon explains federated chats to users and provides tips. This will ensure that users can benefit from the new Teamwire Federation advantages as quickly and easily as possible.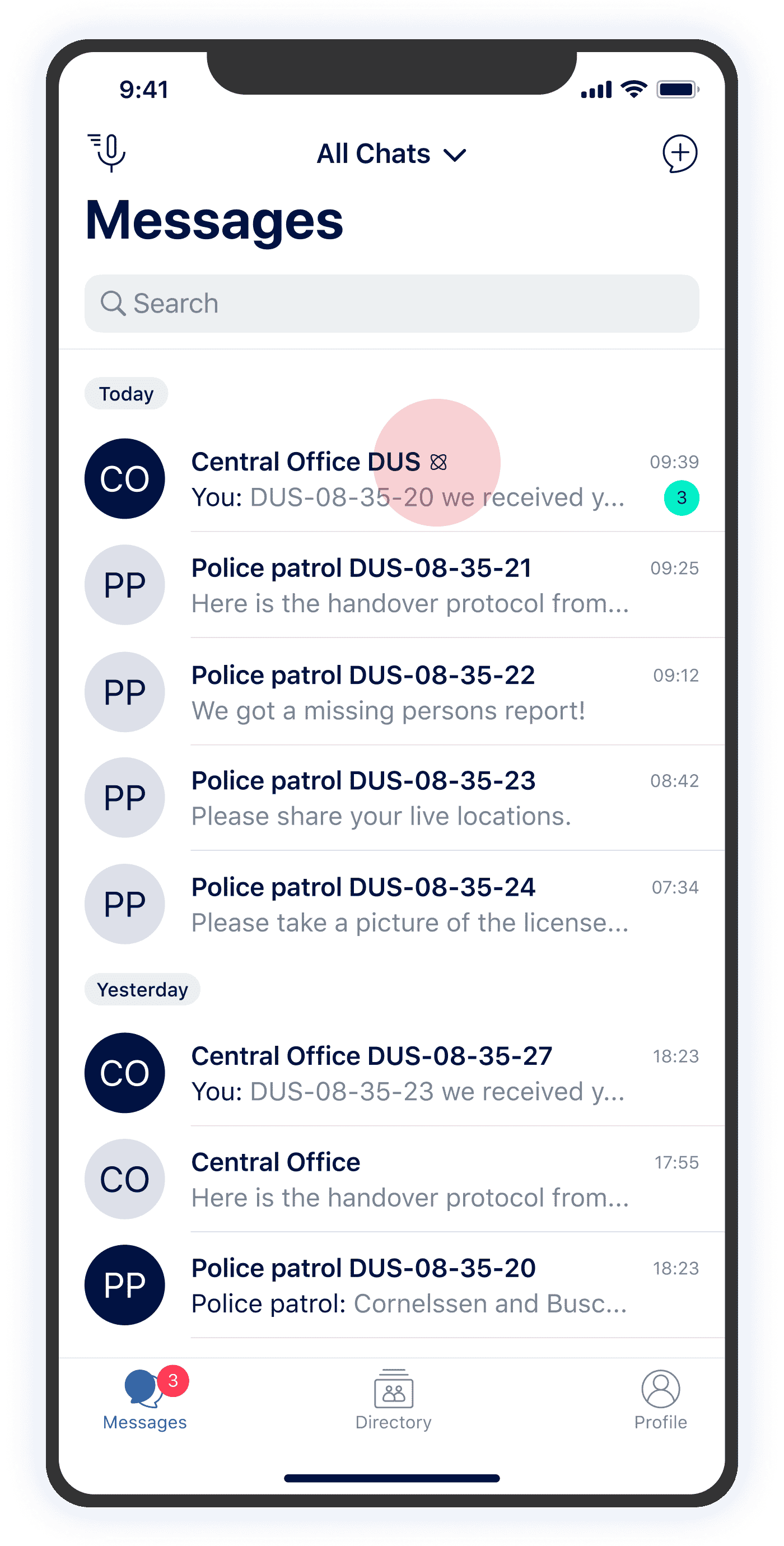 Application scenarios for Teamwire Federation: Quick cases
Teamwire Federation is relevant for individual communication scenarios with the highest security standards across all industries:
Independent of industry or company
Networking of all companies within a network.
Networking of independent organizations in which departments, such as Research & Development, cooperate with each other on projects.
Networking of subsidiaries of a group or conglomerate.
BOS and emergency services
Networking of blue-light, security and rescue service organizations.
Networking of BOS in the event of major emergencies (fire, attack, natural disaster) and major events (demonstrations, events)
Networking of BOS during transnational searches and operations
Public authorities
Networking of federal ministries and authorities
Networking of state ministries and authorities
Nationwide networking of police authorities
Nationwide networking of tax authorities
Nationwide networking of a party or its state organizations
Healthcare
Banks and financial service providers
Networking of central banks
Networking of stock exchanges and trading centers
Networking of cooperating banks and insurance companies
Teamwire Federation is available with the API 16 release. Since the technological innovation affects the IT infrastructure, we recommend implementing it with an IT integration partner. For this, we at Teamwire offer a strong partner network that can provide you with expert support. We will be pleased to connect you with the right expert for your needs.
We are here for you!
Would you like to learn more about Teamwire Federation and implementation? Then contact us and arrange a free consultation.