10 Top Tips: Here's how your employees will use Teamwire right away
It is quite human: not every employee is happy when a change in the organizational environment is imminent. Find out how your employees can better accept a new solution and integrate it firmly into their daily work routine in the blog post.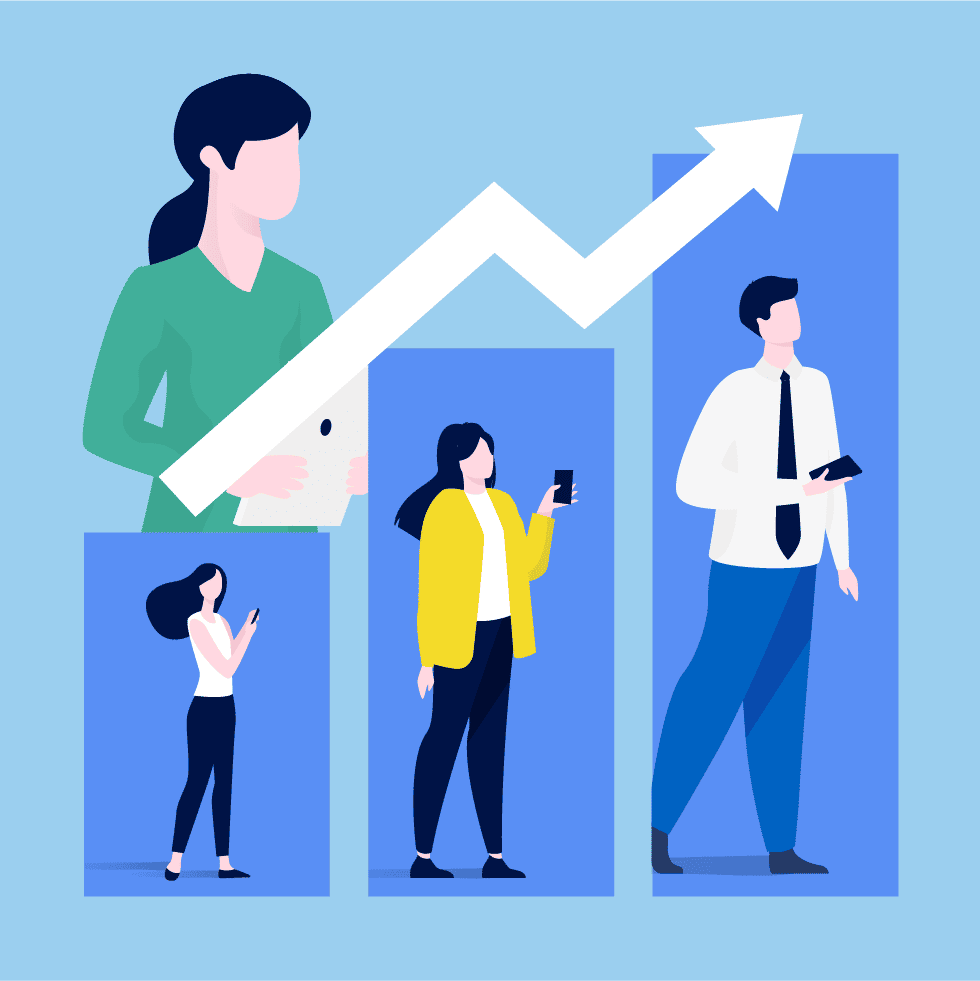 Organizational change: A process in which a company changes its working methods, organizational structure, strategies and business processes. Communication channels are also part of a company's organizational and consultation structure. And thus, the transformation of corporate communications also belongs to this subject area.
Have you already actively dealt with the topic of corporate communications? And already done research on which communication solution suits your business needs as well as the needs of your employees best? Often we are not aware that the introduction of communication and collaboration solutions means new software for employees – and is therefore part of an organizational change process. For employees, this means entering new territory.
Organizational change and the resistance to change
People inherently prefer stability and comfort over change, both in their personal and professional lives. Overcoming resistance to change is one of the biggest challenges in any organizational change. For example, if a new communication tool is introduced, this does not mean that all employees will then automatically use it.
If you want to drive actively a new communications solution in your company, you can be sure that you will encounter resistance from your employees. Why? Because they don't want any change in the way they communicate – after all, telephone and e-mail have worked just fine up to now. The interesting thing is that such defensiveness is caused, among other things, by poor communication and insufficient product onboardings. A new solution that companies just install without adapting it to their specific way of working and without training colleagues simply cannot achieve user acceptance and participation. But we want to put you on a positive note. Because: there are also innovation-driving colleagues who want to try out new possibilities and can thus carry away the skeptics.
You don't have to be an innovator to use a messenger
Fortunately, instant messaging is no longer a novelty for most users these days. Several statistics show that WhatsApp is used privately by the age group 26 to 55 between 82 and 89 percent. Interestingly, messaging here is now no longer used exclusively for writing text messages – thus the origin and replacement of SMS – but rather also to make phone calls as well as to send videos, pictures, GIFs and links. Users are familiar with the clicks, have already learned how to use it intuitively, and have integrated a messenger as a fixed component of everyday private communication.
Translating the communicative added value from private life into the professional world
As soon as a person, regardless of their age group, owns a smartphone, it is hard to imagine private communication without messengers. In Germany, WhatsApp is the No. 1 messenger, followed by Signal, Telegram and Threema. Thanks to its widespread use and high user acceptance, many employees see the added value of ad hoc communication and are happy to communicate with colleagues via their private messenger.
The added value is understood. The use has been learned. Only the resulting security gaps in corporate communication are not present. (Blog article: The new terms of WhatsApp and the consequences for businesses) We can deduce that a business messaging solution is a secure WhatsApp alternative for companies and not a completely new communication tool to be learned. Accordingly, the introduction of a business messaging app can be carried out skillfully – with the success of direct user participation.
10 tips for a quick and successful introduction of a business messenger in companies
Decentralized working requires many companies not only to rethink internal communication and the way they work together, but above all to make it more digital. In order to ensure a continuous exchange of information, which also includes mobile employees without an office workstation, and at the same time to keep productivity in the team high, the appropriate communication and collaboration tools are an extremely important building block.
Tip 1: Explain the 'why' – One business messenger, many benefits
Optimized communication, a stringent flow of information, a more efficient exchange of knowledge, increased productivity and an improved sense of unity thanks to employee involvement – these are the five benefits that a business messenger brings. They can be shared with your employees at any time.
Tip 2: Who takes on the administrator role?
The big difference between a consumer app like WhatsApp, Signal, Telegram and Threema as opposed to Teamwire is that Business Messenger is controlled via an administration interface. A selected administrator can determine which users can join the respective organization and which rights they receive. Who takes on this role usually depends on the size of the company. In small companies it can be the managing director, in corporations the IT administrator is the controlling and managing person.
Tip 3: Ensure a smooth start
There are two scenarios: Either the company provides employees with one or more mobile devices, or it operates according to the BYOD (bring-your-own-device) principle. In both cases, the installation effort must be kept as low as possible. Therefore, automate user registration for a smooth roll-out with minimal user interaction. For example, you can add users – either through the administration dashboard or share a download link including a short first-step-instruction. This not only reduces support efforts, but also has a positive impact on user satisfaction.
If the company provides the mobile devices, we recommend configuring both the device and the app as best as possible in advance, for example by entering those contacts with whom the respective employee primarily communicates. Initial group chats and channels for teams, projects and topics help ensure that employees can get started quickly.
Tip 4: A business messenger offers much more than just text messaging
It is important to make it clear right from the start that a business messenger is nothing other than a classic messenger. The major distinction is that it is designed for and geared to business needs. This means that special functions are integrated that are not found in standard consumer apps. Group communication, for example, is a top priority in the corporate context. It is just as important to be able to send pictures and files. How these applications and other business functions – including alerts and attention messages – work should be explained and demonstrated right at very beginning.
Tip 5: Present application scenarios
It is best to showcase the most important features for your specific use cases using best practices. When connecting to third-party systems, it's a good idea to run through scenarios that can't be implemented as efficiently with current solutions. Quick wins like this will convince your employees, who will associate the new application with positive user experiences right from the start.
Tip 6: Provide touch points for questions
Designate one or more key users as contact persons and encourage your employees to seek assistance from these colleagues. In this way, you not only create an atmosphere of trust, but also give more reticent employees an opportunity to turn to a fixed contact person in the event of questions and/or ambiguities. As an additional point of contact, you can provide your employees with a quick guide or mini-user manual that contains the most important functions and application recommendations. An integrated onboarding bot, which gives users a brief introduction and provides further information by entering keywords, is also a useful aid. In addition, familiarize your employees with the new communication tool in a training session and offer further in-depth training if required.
Tip 7: Get everyone on board
If a new communication tool is used for corporate communications, then the entire workforce should also use it. It will be easiest for the young workforce to get to grips with an app and learn it in a playful way. Use the ease of your young workforce (apprentices, student workers, and interns) to create a stronger sense of "We-feeling". Involving managers is just as crucial, as they also act as role models in flat hierarchies. Managers should set a good example by actively using the new communication tool, consistently integrating it into their daily work, and thus acting as equals.
Tip 8: Identify internal ambassadors
If the new communication tool has already been in use for a while, it is advisable to identify particularly active users. They are predestined to act as internal ambassadors or multipliers. In this role, they speak out positively for the use of the solution in the team and among colleagues. Internal ambassadors are particularly authentic and can best convince their colleagues of the benefits.
Tip 9: Use facts to generate enthusiasm for the new solution
Create a short fact sheet with ten aspects that will whet your employees' appetite for the new communication tool – for example, that it will enable them to get quick answers to unanswered questions, to consult with each other easily, and to never miss the latest company news.
Tip 10: Allow feedback opportunities
Every company is unique with its specific use cases. One communication tool cannot cover them all immediately. For this reason, it is important that you give your employees a feedback option. Here, for example, they can communicate where there is still room for improvement. In addition, it makes sense to monitor the use of a communication tool and derive measures based on these observations, such as defining additional use cases and scenarios. You can then use this feedback to work with the provider to customize the solution and make enhancements.
We are here for you
Do you have questions about our business messaging app? Or would you like to know how Teamwire can be used in your company? Please feel free to contact us!