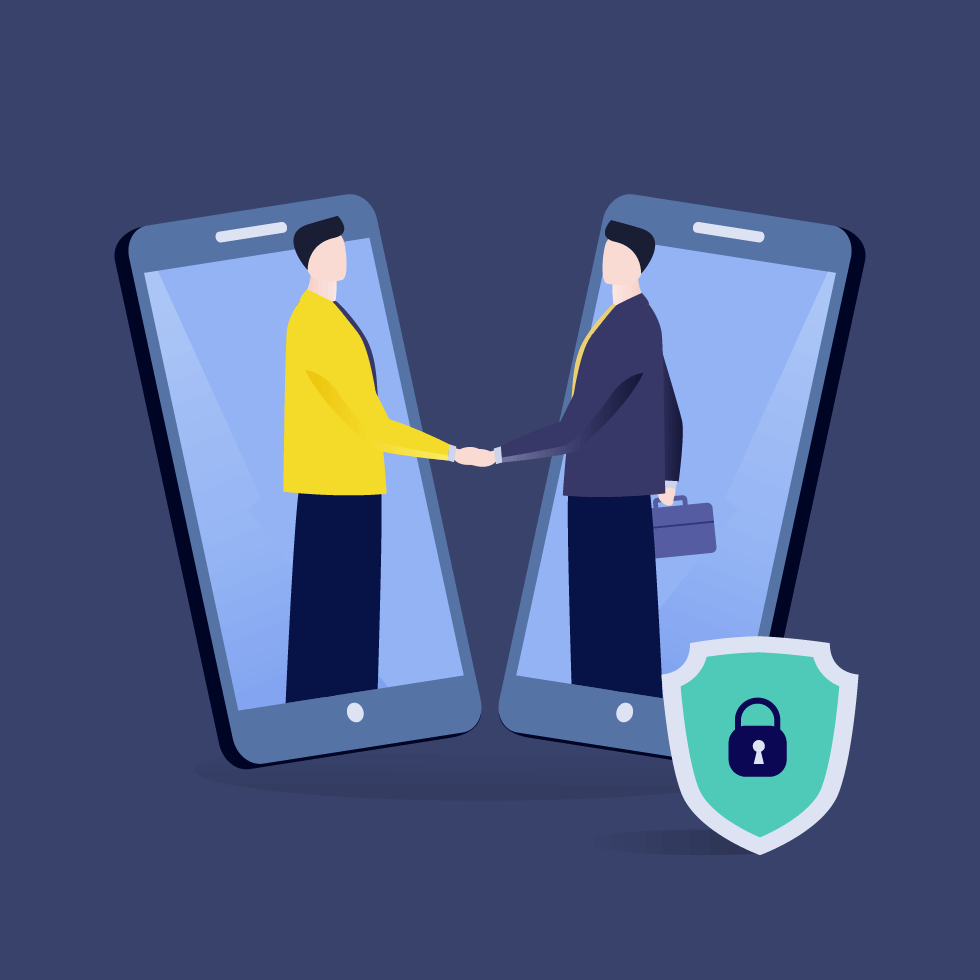 How messaging drives customer service and internal corporate communications
Financial service providers and banks have a large number of employees and specialists. They work in branch offices, customer service, call centers, at headquarters or even in the home office. Especially for these kinds of organizational structures, it is important to use the most advanced technologies for internal and external communication. Whether in customer service or in internal communications, what counts is that the communication is effective, fast, secure and connects all relevant employees independent of their location and the device in use.
Collaborative Messaging – The complement to Microsoft Teams and Slack
Slack and Microsoft Teams are well-known collaboration platforms for so-called desk employees who work very heavily with Office tools. The functionalities of both providers are not designed for mobile workers, and not all staff are equipped with a computer or the office suite. It is also important to include mobile employees in the communication and current events. Teamwire offers a data protection compliant and secure business messaging solution with comprehensive communication features and for the exchange of documents and files.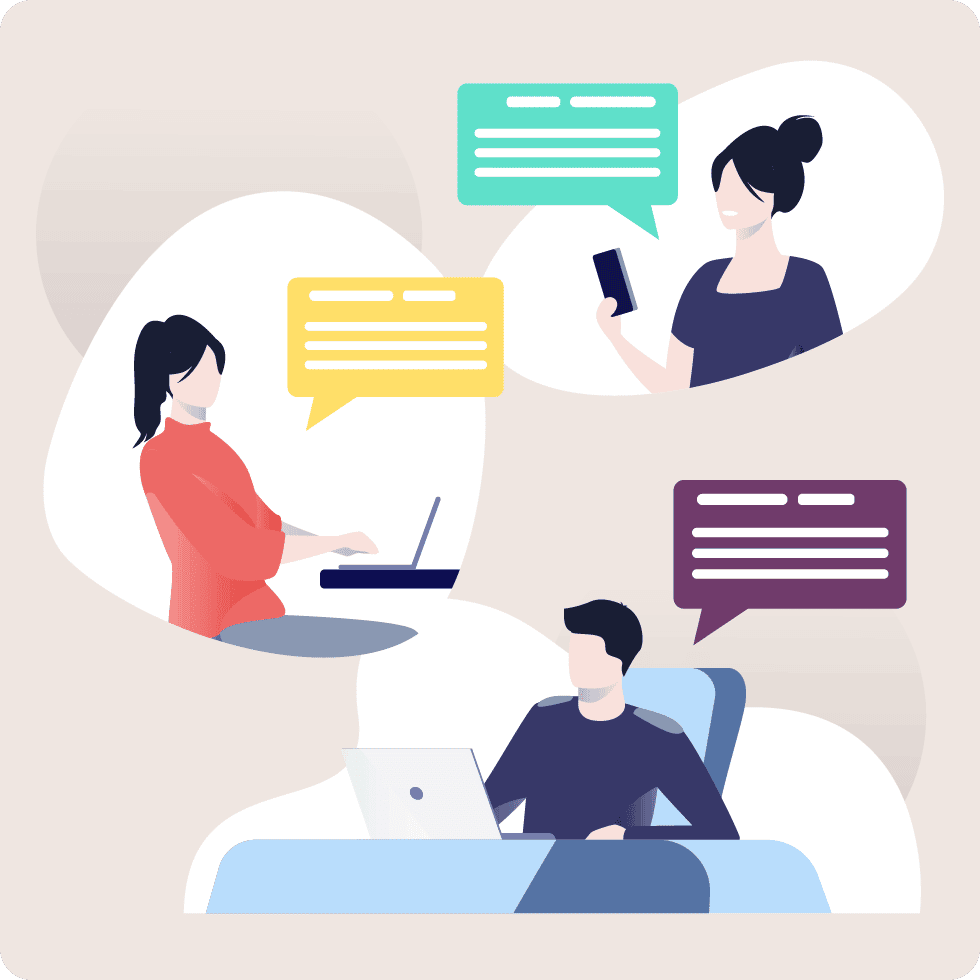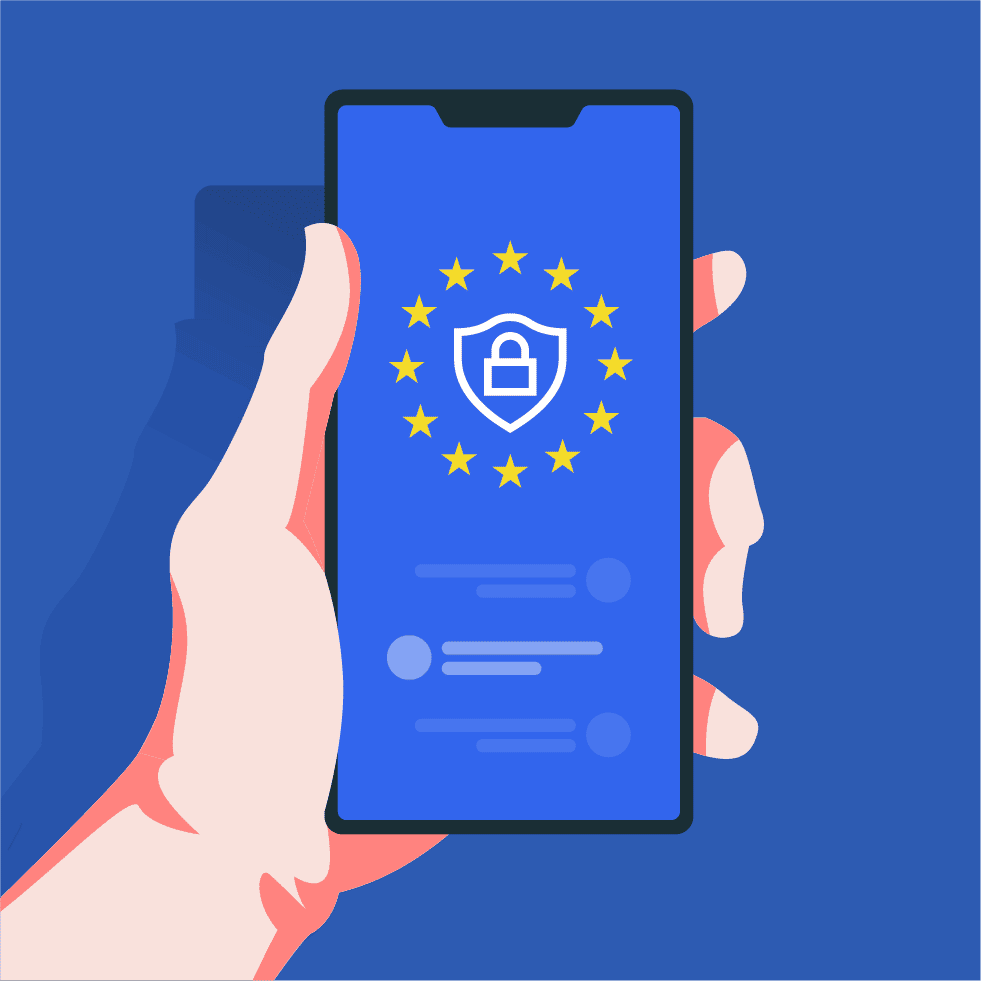 Data protection – the foundation of a secure business messaging app
Teamwire is a GDPR-compliant messenger and fully complies with all requirements of the European General Data Protection Regulation (GDPR). Our Messenger protects personal data comprehensively, is legally compliant and gives customers full data sovereignty.
Use Teamwire as a fast communication platform to connect all employees – mobile, in the office and working remote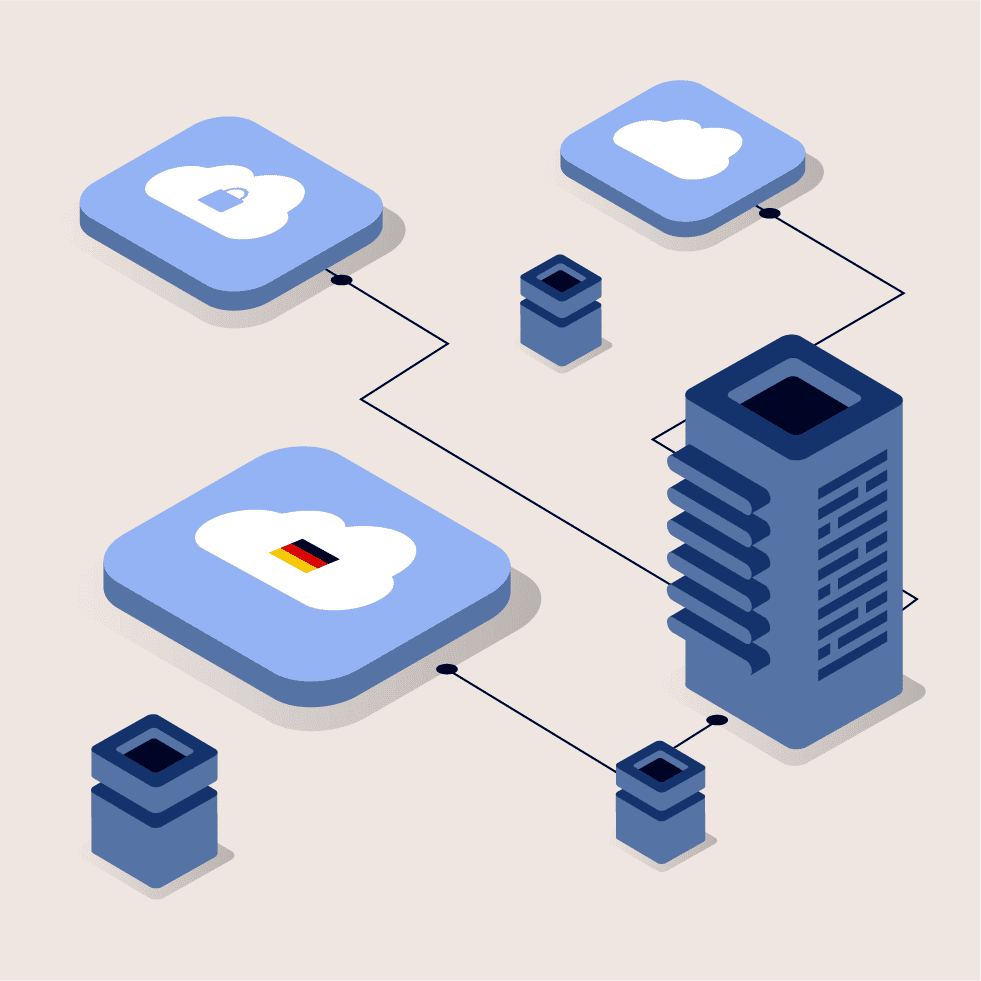 Cloud, private cloud and on-premise hosting for maximum security and data control
Teamwire is a German product that is focused on the requirements of large enterprises and corporations. The solution is suitable for complex network infrastructures, enables a fast roll-out and ensures high scalability. Teamwire provides the highest level of data protection based on European laws and standards and offers free choice of hosting – cloud, private cloud or on-premise.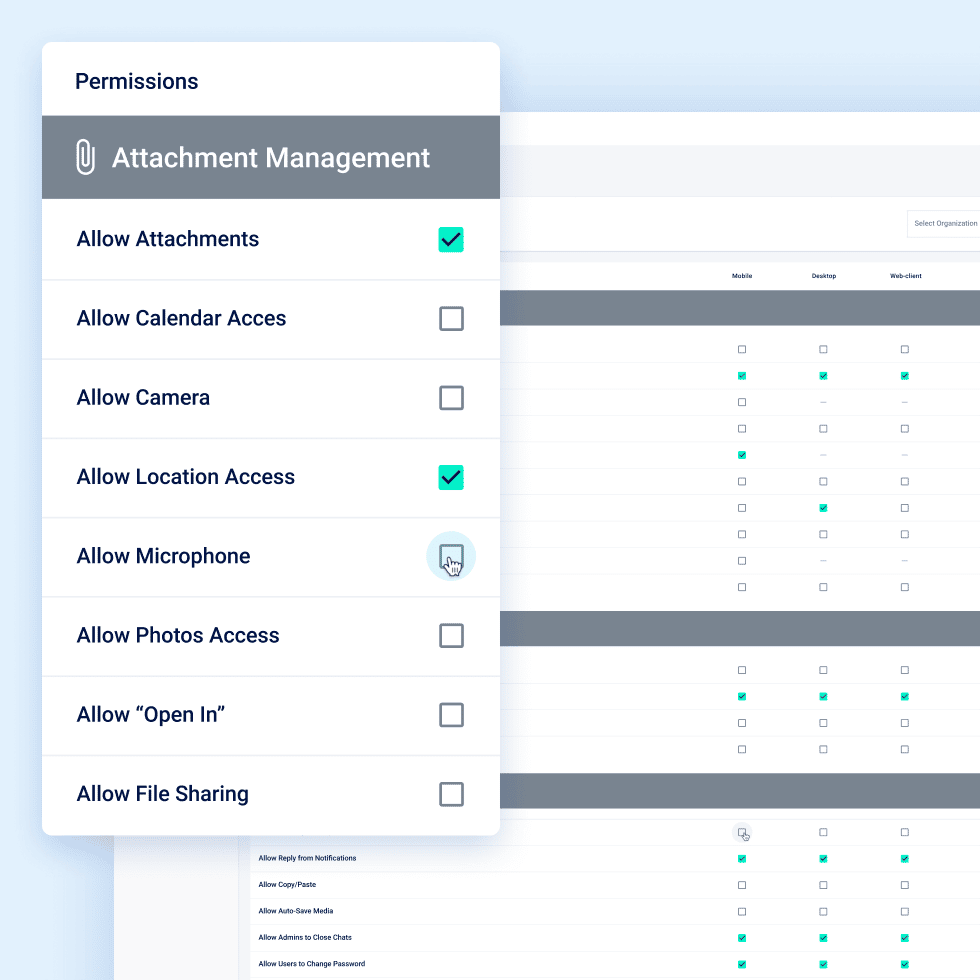 Use our administration dashboard to ensure compliance and connect Teamwire to your unified endpoint management
As administrator you have control over the users and all functionalities within the app. Administrators can easily manage users, synchronize directories from LDAP/AD, configure comprehensive security policies and set communication rules for their financial institution. In addition, the Teamwire app can be automatically rolled out with MDM/UEM solutions and comprehensively protected as a secure container.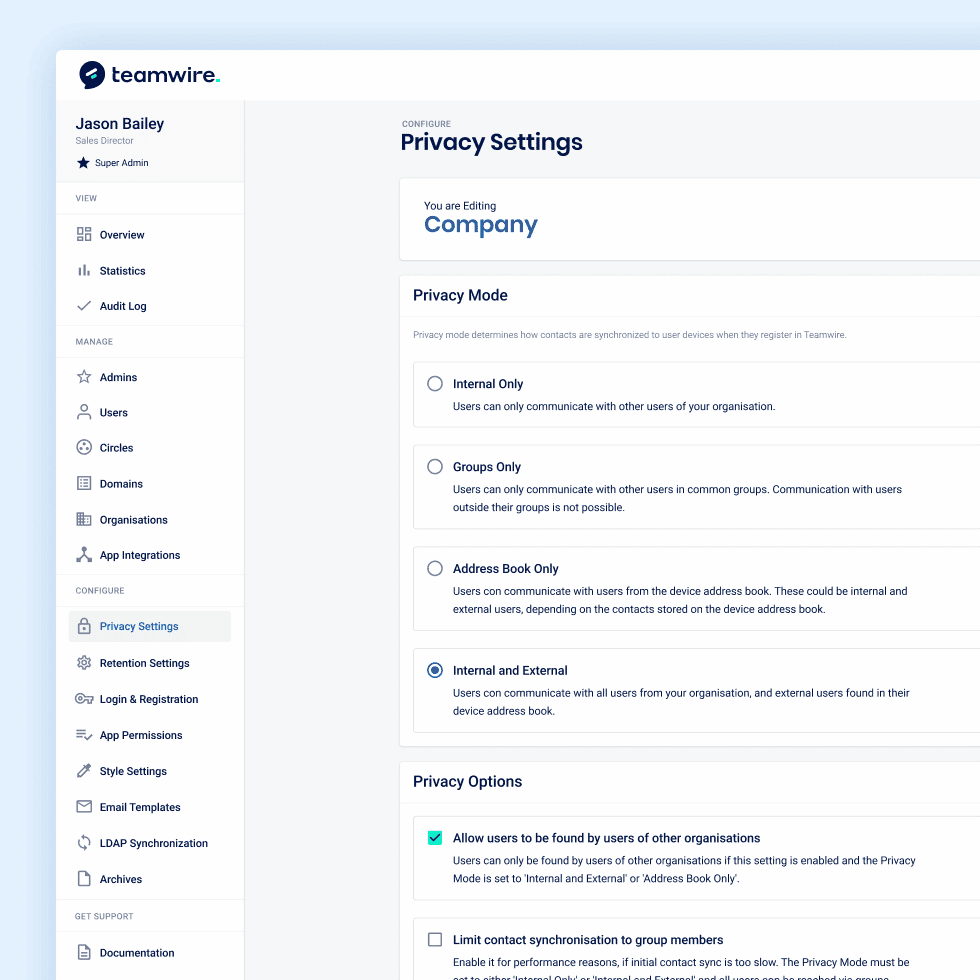 Professional multi-tenant capability
Financial service providers are often divided into different organizations. Each of these organizations can be assigned its own client and managed independently. Nevertheless, a comprehensive communication can take place.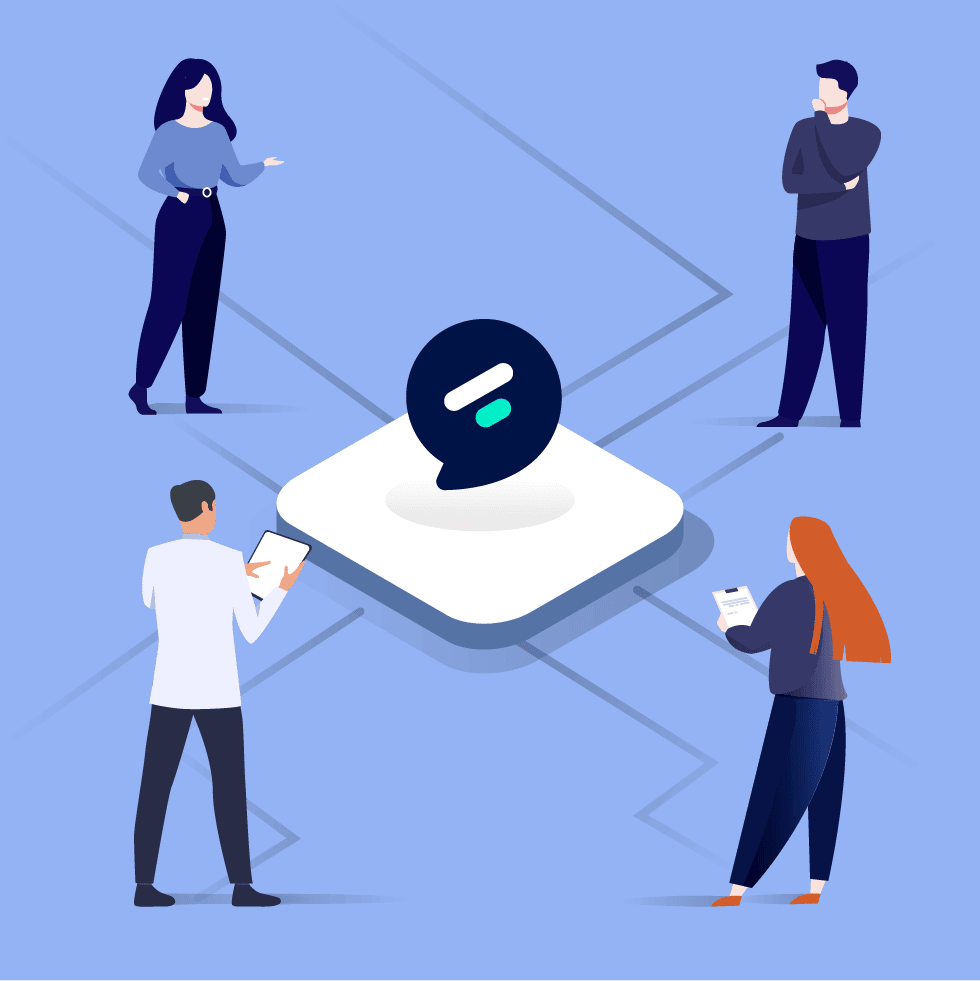 Targeted communication via group chats
In the banking world in particular, there are many departments on the one hand and extensive branch networks on the other.
For effective communication and easy connection, financial service providers need professional group chat functions – e.g. distribution lists, circles and broadcasts. This simplifies and accelerates the exchange of information. You can even predefine groups via our administration portal.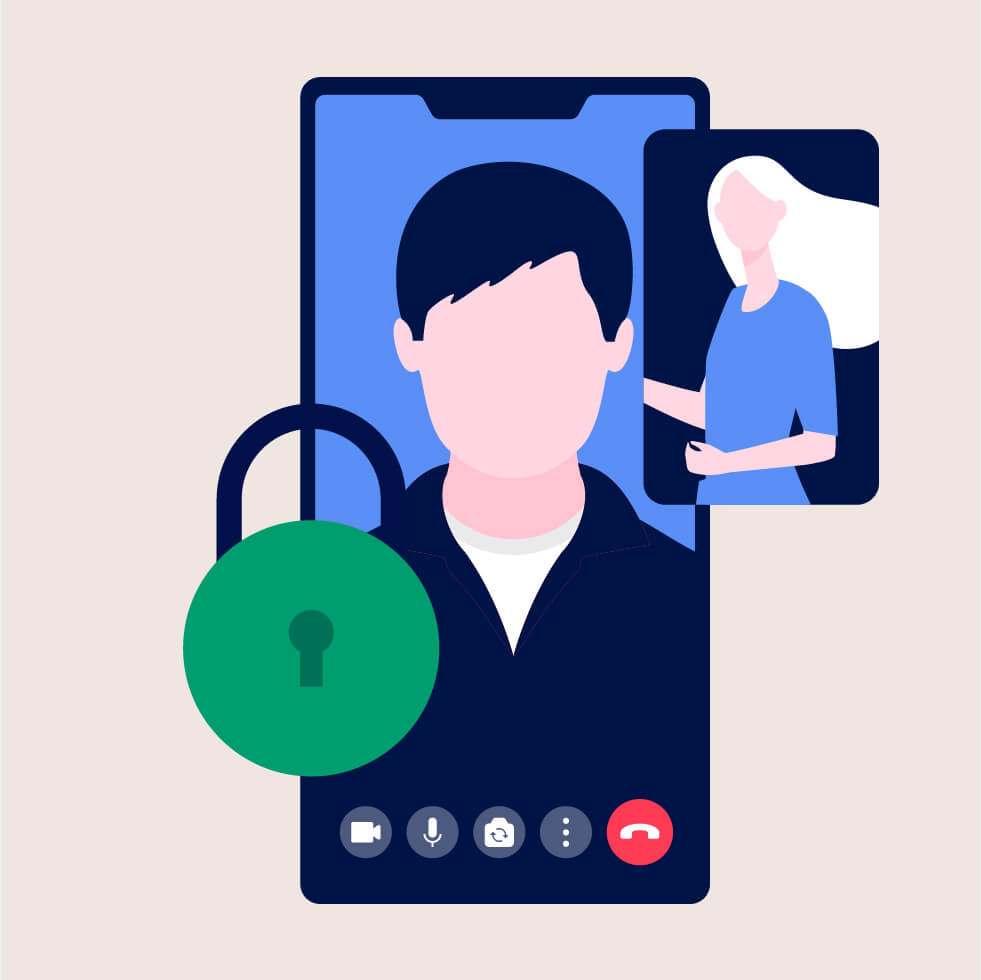 Phone and video calls via one app, all without a phone number
A fast, simple and at the same time secure communication flow via Voice-over-IP and video calls to enable employees to work together efficiently and collaboratively.
Especially with decentralized and hybrid teams, it is difficult to enable a stringent communication flow including the sharing of all information. Chat, send voice messages, make phone and video calls, and share files conveniently – Teamwire enables all this with just one interface.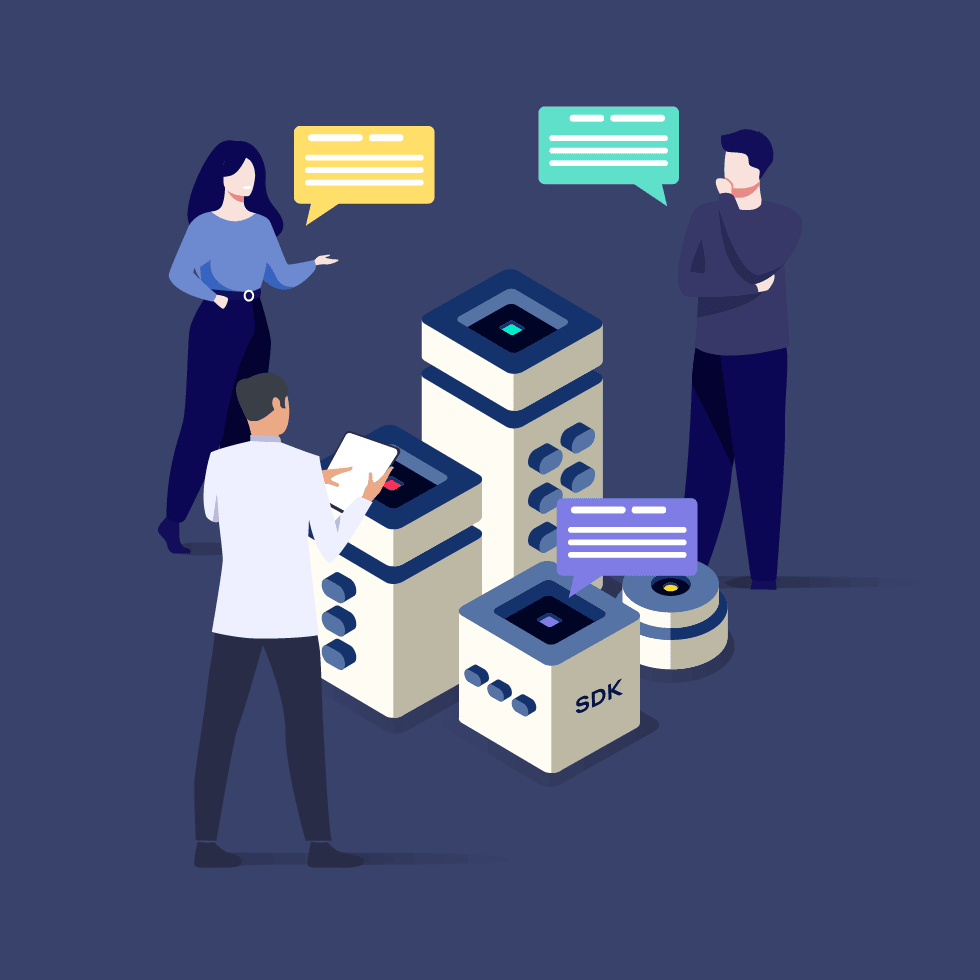 Conversational Banking
In addition to internal communication, online customer service plays an important role. Here everything revolves around the best possible customer experience, which can be well supported by conversational banking. Conversational Banking is the symbiosis of virtual AI and live agents. Use Teamwire as connector and front-end solution for your chat bot and the live communication.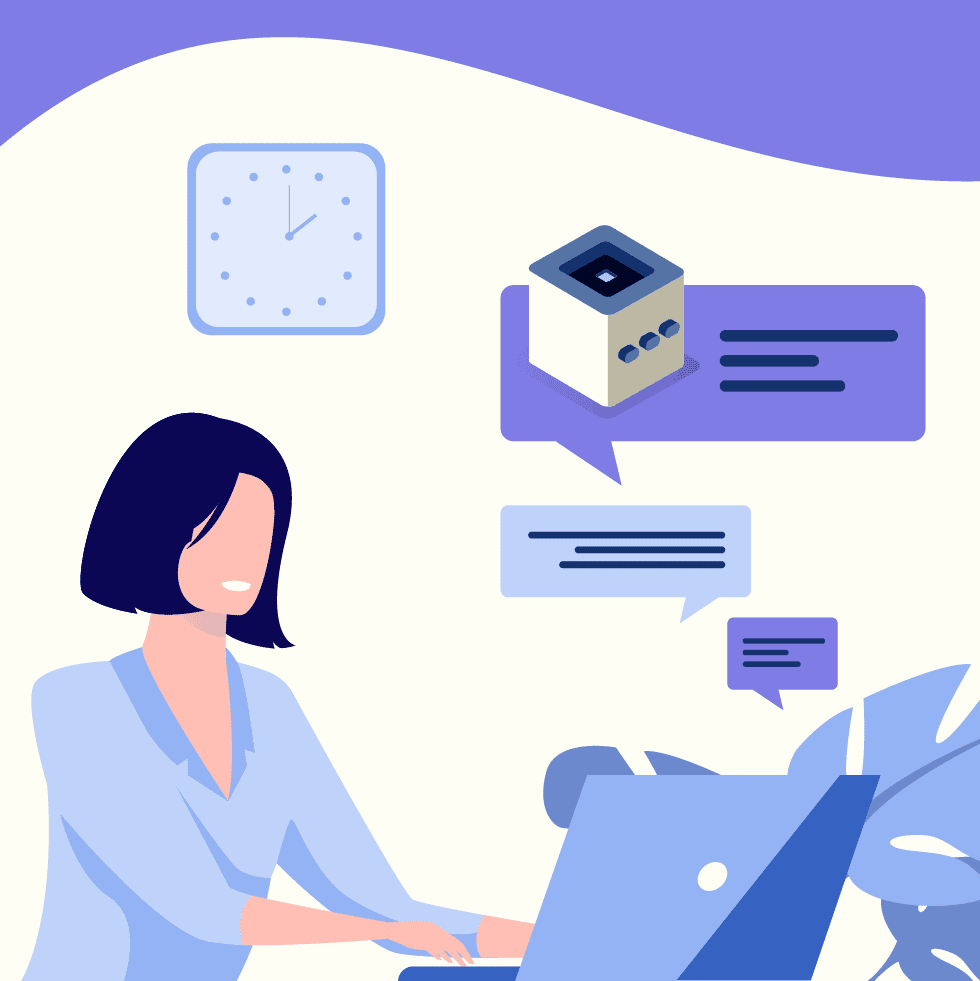 Live chat for customer service
Teamwire simplifies and accelerates the customer service communication via a chat widget, that can be integrated into a website. A recipient group (configured by the IT administration) gets informed in real-time within the Teamwire app and can respond directly via the platform.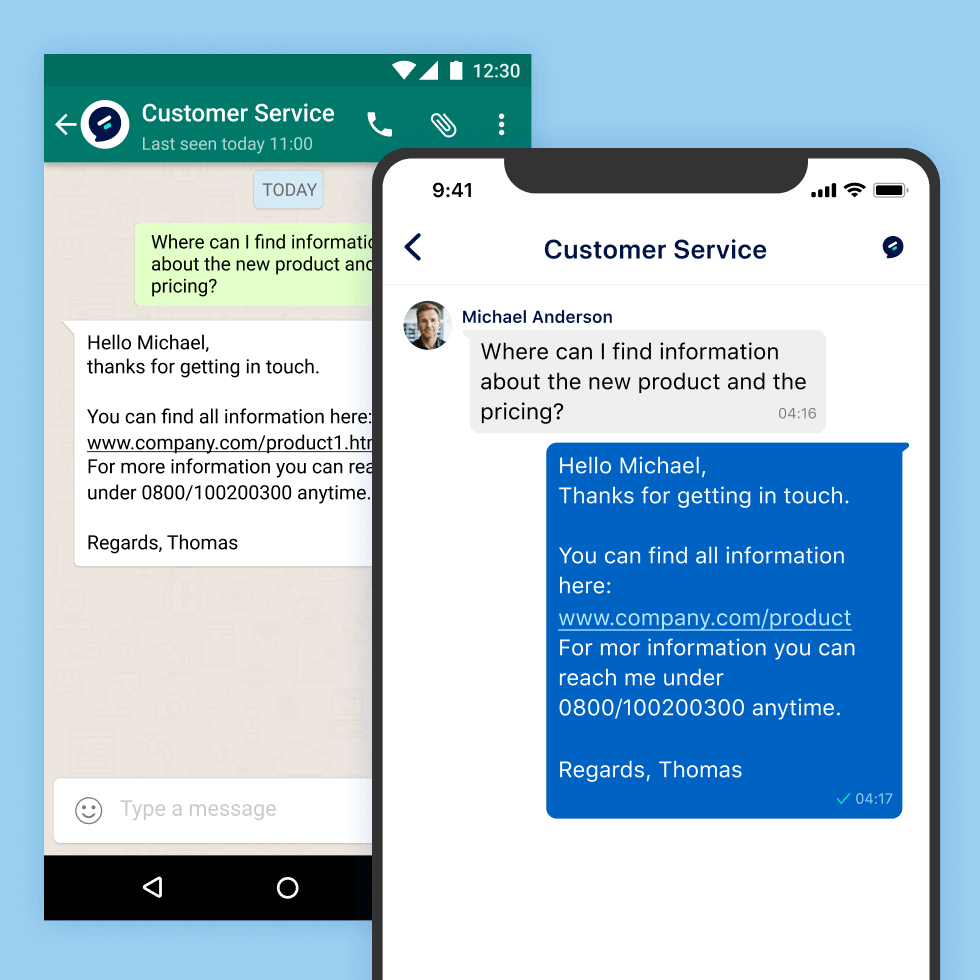 WhatsApp for Business for effortless messaging communication with the customer
In Europe, WhatsApp is the leading messaging app for private use and there is a great demand to use it for the communication with a customer service professional. Teamwire provides a solution with its secure WhatsApp for Business integration. Let your customers service agents communicate securely via Teamwire, while the end customer sends messages via WhatsApp.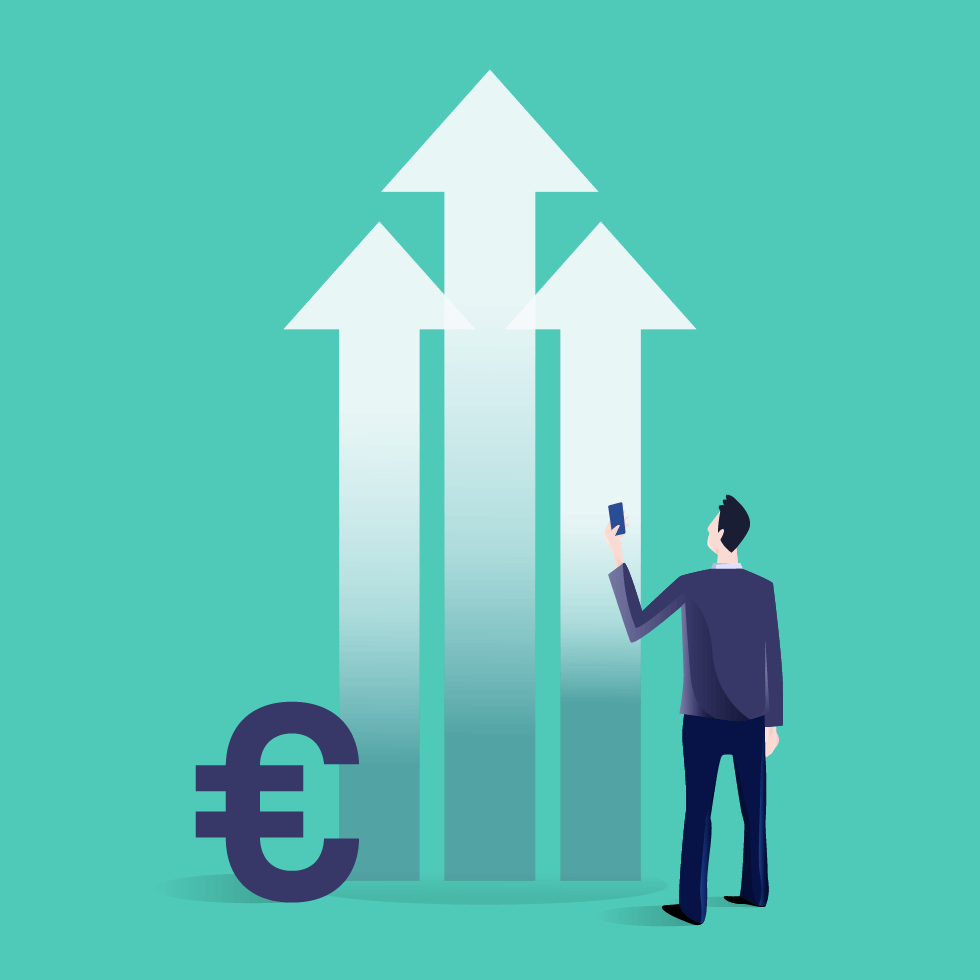 Accelerate internal work processes to increase efficiency
By connecting Teamwire directly to your internal systems, e.g. ERP/CRM, employees and departments can receive information automatically and query it easily. Benefit from efficient communication where employees are directly informed, response times are reduced, questions get quickly clarified and decisions are made faster.
Get even more out of Teamwire!
Productivity advice at first hand, plus product news, use cases and releases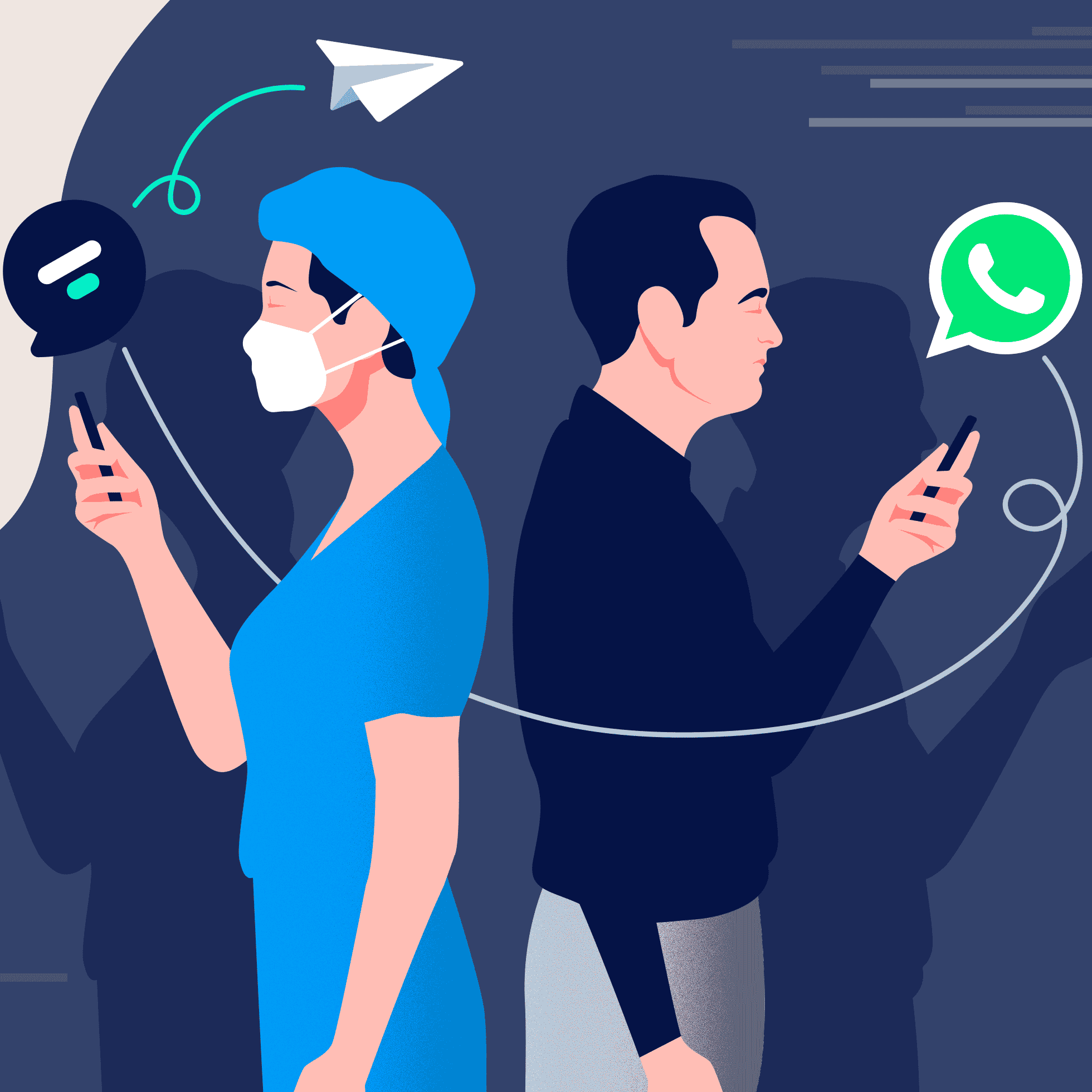 When alleged competitors complement each other
Teamwire and WhatsApp – how can that be? In initial talks with potential customers, we like to use the phrase "WhatsApp alternative" in sales. This allows business decision-makers in a very frag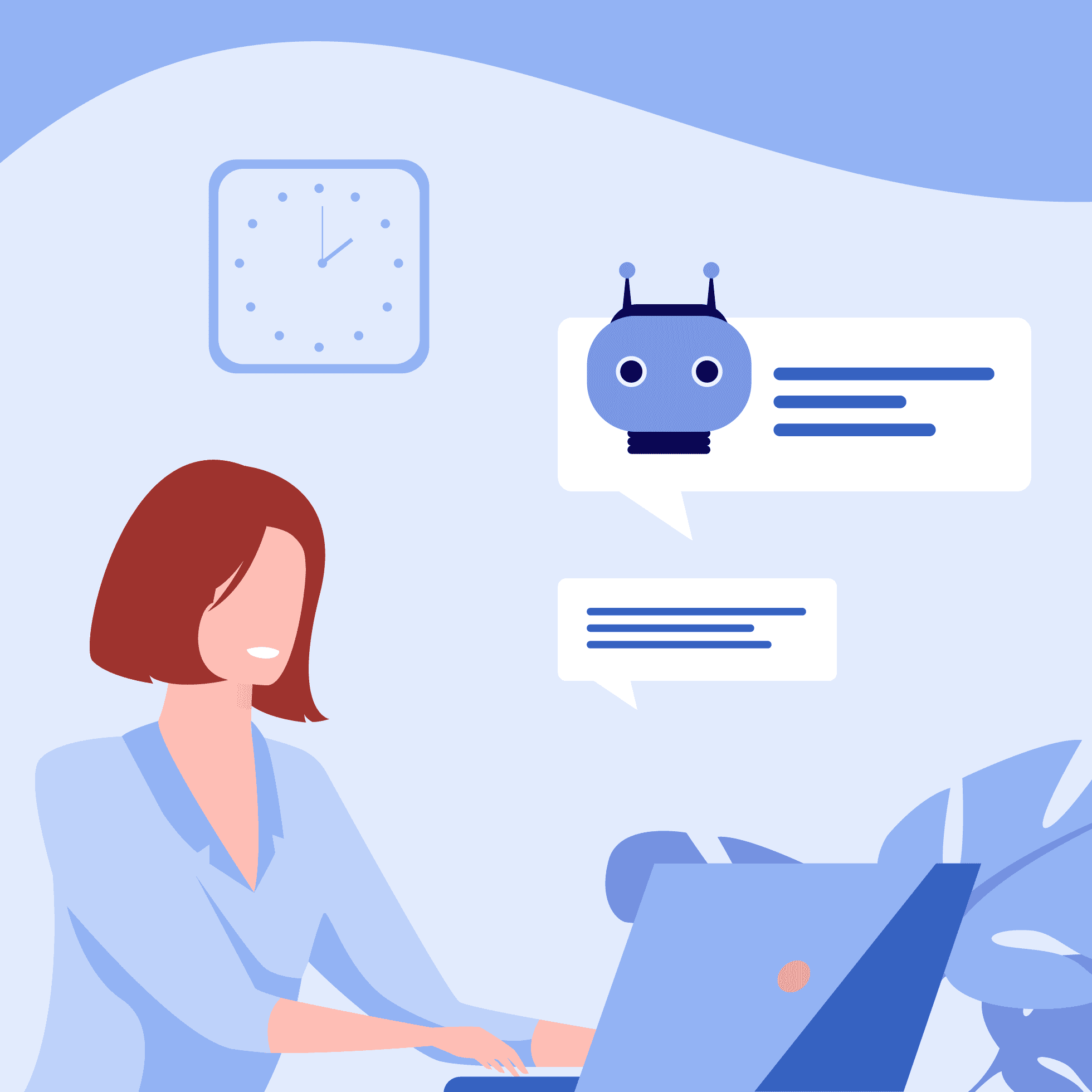 Teamwire – the most secure front-end solution for Chatbots in enterprises
In today's communication universe, Chatbots are user interfaces (UI) which allow humans to interact with digital systems automatically either through spoken word or unscripted text messages. In the past, interactions were based on strict rule-based and pre-programmed conversational structures.