Emergency Recovery Plan
In March, a fire at the data center of the French cloud infrastructure company OVH disrupted, and in some cases destroyed, the services of many companies. Some customers lost data. To protect customer data and ensure high availability of our service, Teamwire has emergency recovery plans in place for such scenarios.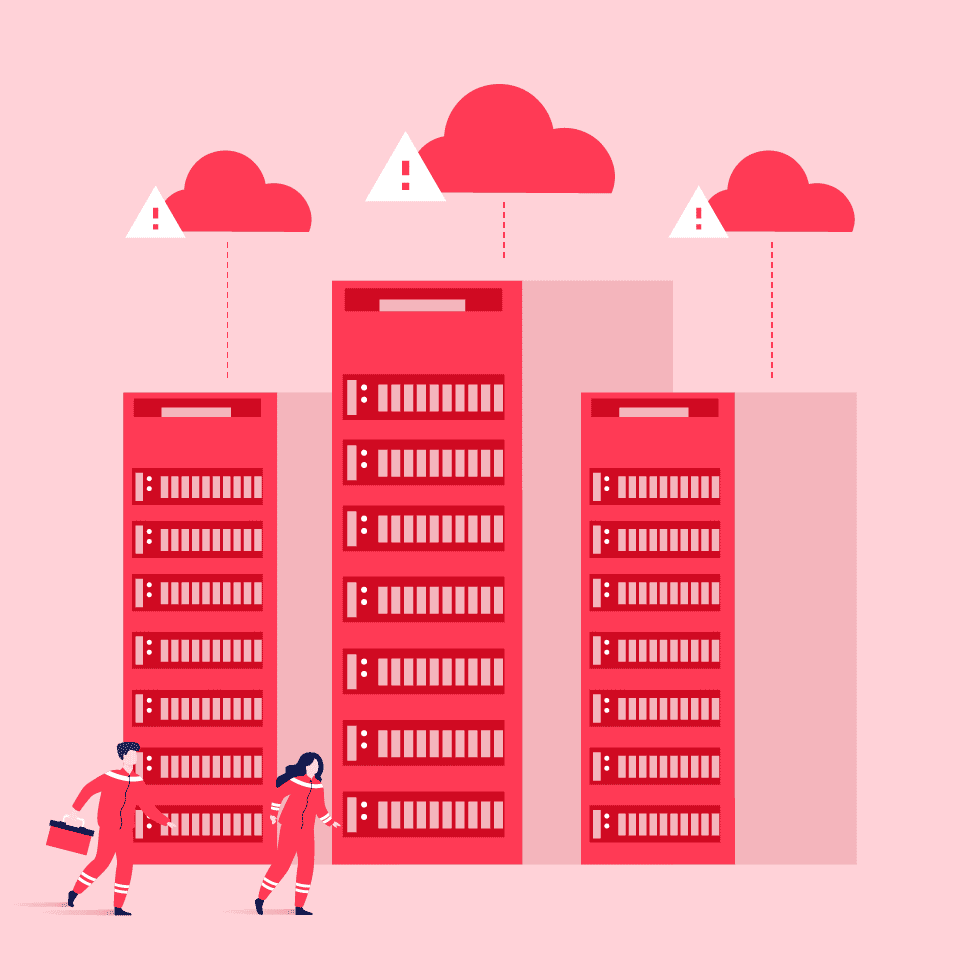 What to do when a disaster like a server data center fire happens? Expose yourself as a company powerless to fate? Nowadays, you have to be prepared for critical events and escalations, as now in the case of the OVH data center fire.
Many websites, software providers, Internet companies, banking services, government portals, e-commerce stores and other providers that were operated via this data center were offline for hours or even days due to the damage. Worse still, in some cases there was major data loss. And apparently some data center customers had lost data because they had not set up backups. Due to a lack of emergency recovery plans on the part of customers, some services were still not fully back online weeks after the incident.
What exactly is an Emergency Recovery Plan?
The goal of an emergency recovery plan is to ensure that a disaster or other emergency affecting information systems can be responded to quickly and the impact on business operations minimized.
The Teamwire Emergency Recovery Plan
Below, we want to provide an overview of how we protect customer data from our Teamwire business messenger and ensure the availability of our cloud services in the event of such an escalation level:
Premium data center
The servers for our cloud are located in a premium data center provider in Germany. The data center is ISO27001 certified and is built as a resilient data center infrastructure with independent zones.
Internal as well as external security audits take place in the data center in order to identify potential weaknesses and continuously improve the system.
All staff of the data center is regularly trained and action plans are in place for emergency situations.
The data center does internal backups of the servers in a different zone and in another data center in a different location. In addition the data center does have a recovery concept to ensure quick restoration of servers.
There are emergency power supplies in place to ensure continuous operations of servers in case of incidents.
The data center has different fire zones that are structurally separated. Each zone has an individual fire extinguishing system for immediate fire suppression.
The criticality of earthquakes and floodings of the data center has been evaluated according to DIN norms.
Needless to say there are many more measures in place to ensure IT security, data protection and GDPR.
Regular backups in different data centers
Our data center does a lot to protect data and ensure availability of our cloud. However, we don't want to be dependent on a data center and in the worst case we want to have backups of our own. Therefore in addition to the data center we as Teamwire do our own backups.
First of all our German cloud is based on a cluster setup of servers that are constantly synchronised. That means in the case that one machine would fail, another machine would instantly take over. With the cluster server we can ensure high availability of our German cloud.
In addition we do hourly backups of all server databases of the German cloud in a separated zone of the data center.
Furthermore, we do daily backups of all server databases of the German cloud in another German data center in another region.
Emergency recovery protocol
All the above measures protect data and ensure full availability in cases of incidents like machine failures, network problems or smaller fires.
For a worst case like a full data center failure (e.g. destruction of the facility like the OVH case) we have an emergency recovery protocol in place to set up our German cloud in an alternative data center within 2 hours.
The emergency recovery protocol handles all required steps to re-install the services, restore databases and assets and quickly start the alternative cloud environment. It describes clear instructions and all tasks (incl. commands) by devops and support.
The emergency recovery protocol also takes care of all internal communications in order to ensure organisational alignment and maximum speed. As well as the external information to customers and partners is described in order to ensure business continuity and transparency.
Switch to alternative data center
With these security measures and our emergency recovery protocol in place we could very quickly switch to an alternative data center in Germany for our cloud. That means in such a worst case scenario our customers would only experience a minimal downtime.
Include security as the biggest factor
As powerless as a data center customer can be at such a moment, it is even more important for us to provide the best possible protection for our own customer base. We cannot give a 100% guarantee that such a scenario will never happen. The probability is very low, but not impossible. And that is exactly why we have developed the Teamwire Emergency Recovery Plan for our customers.
We are here for you!
Would you like to learn more about Teamwire's security and Emergency Recovery Plan? Then contact our sales team. Our sales colleagues will be able to tell you, both as an existing customer and as a (potential) new customer, exactly what security measures are in place.