Hospital Futures Act: How our Business Messenger supports the digitalization of hospitals
The Hospital Future Act (KHZG) and the associated funding program are designed to pave the way for hospitals to digitalize their operations. Our Business Messenger is also eligible for funding under the KHZG.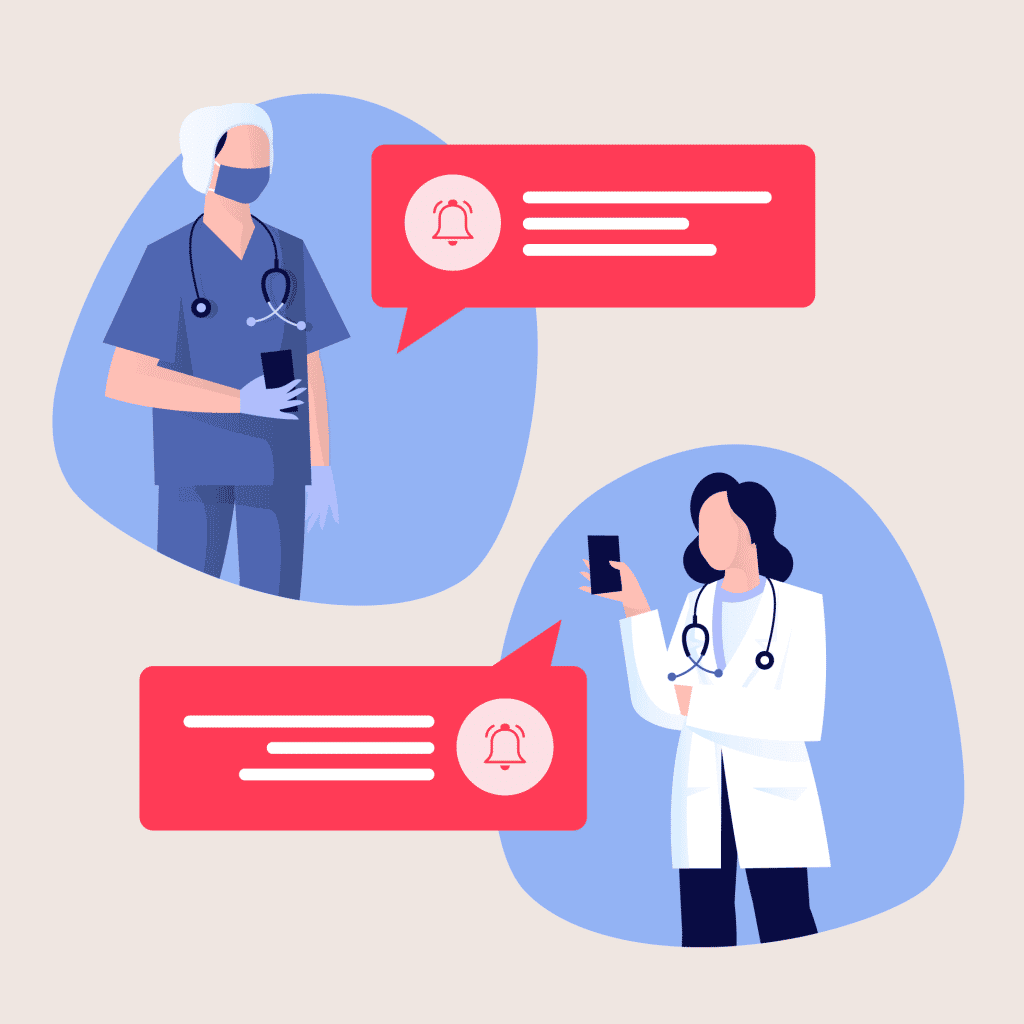 The demand in German hospitals for digital transformation and its implementation in the IT infrastructure is tremendous. The reason: The hospital investments to be made by the federal states have been declining for some time. As a result, Germany is lagging far behind in the digitalization of hospitals. This is a deficit that is to be made up in the course of the Hospital Future Act.
In our blog post "Hospital Futures Act as the opportunity for digitalization: What hospitals need to know" we have already explained,
What is involved in the Hospital Futures Act,
which funding areas it covers,
which hospitals are eligible for funding
and why it is worth applying for funding.
At a glance: The four funding areas
Funding area 1: Technical and information technology equipment
Funding area 2: Digital infrastructure

Funding area 3:

Information and cyber security
Funding area 4: Regional supply structures
Today, we'll highlight how our Business Messenger pays attention to all four areas of support and, as a central communications hub, provides crucial support for the digitilization of your clinic.
This is how Teamwire provides hospitals with support to …
… optimize their (information) technical equipment in the emergency room:
Teamwire enables hospitals to network the entire workforce – with a strong focus on mobile staff in this case. In the event of an emergency, for example, this ensures the (telemedical) exchange of information between the rescue service, control center and hospital via distribution lists and corresponding group chats in a timely manner. But communication within a clinic, for example between different wards or diagnostic centers, as well as with external healthcare providers, is also easier and faster to implement with a Business Messenger.
… improve their digital infrastructure and thus their patient care:
Especially in internal communication between hospital staff – doctors, ward managers, nurses and caregivers – the business messenger plays to its strengths, which sustainably improves patient care. But Teamwire also offers numerous advantages in process organization, documentation and telemedicine:
Digital admission management: With the help of a WhatsApp for Business interface and guest access, it is possible for patients or their external healthcare providers to make appointments online for outpatient care services, such as examinations as part of pre- and aftercare, and to request and coordinate partial and full inpatient treatments online. At the same time, admissions management staff can send messages to patients.
Digital treatment management and care documentation: An open API can be used to connect third-party systems, such as existing hospital information systems (HIS) and ERP systems. This enables hospital staff to access relevant information, such as patient records, more quickly, regardless of location and time, and to better coordinate organizational processes, such as staff planning or bed management. Data can not only be queried, but also entered into the electronic patient file. The Business Messenger thus enables mobile and digital ward rounds. At the same time, the app provides hospital staff with an overview of the nursing documentation that has already been completed and that is still outstanding by creating a nursing report. In addition, reports of near misses, errors or critical or undesirable events can be forwarded to the in-house critical incident reporting system via the app.
Digital service management and telemedicine networks: Teamwire enables doctors to obtain an overview of all (patient) services already requested and to retrieve the respective data regardless of location. If several diagnostic centers are caring for a patient, images such as CT scans, X-rays and pathology reports can be exchanged in topic-specific group chats. Integrated image processing functions such as the blur tool ensure the necessary security and anonymity of the patient. In order to integrate doctors from other hospitals – for example, in the context of teleconsultations – into the communication and thus obtain further professional opinions, Teamwire offers so-called guest accesses. It is also possible to send electronic doctor's letters via the app. Furthermore, it supports doctors in assessing clinical data and initial findings of emergency patients already during transport to the hospital.
… bring their information and cyber security to the highest level:
To ensure patient safety, treatment effectiveness, and the operability of a hospital at all times, the highest levels of IT and cybersecurity are an absolute necessity. Among other things, this includes avoiding availability disruptions and ensuring the integrity and confidentiality of IT systems, components, and processes. As a German provider, Teamwire not only hosts all data in ISO 27001-certified data centers, but also encrypts it completely end-to-end. This gives hospitals the security of knowing that the regulations of the GDPR and the German Federal Data Protection Act are fully implemented. At the same time, Business Messenger has a strong focus on improving IT and cybersecurity by preventing IT incidents such as cyberattacks through secure authentication systems, intrusion prevention systems and interface control. In the event of a successful hacker attack or data loss, Teamwire offers numerous features to mitigate such an IT incident – such as automated back-up systems, centralized access management for data loss prevention cases, and audit logs.
All these use cases show that we support several KHZG funding areas with our Business Messenger and that you can thus take a decisive step with regard to the digitalization of your hospital. After all, with Teamwire you optimize hospital processes and simplify decision-making processes. At the same time, we also know that the most sophisticated functionalities are worth nothing if usability and user experience are not up to scratch. That's why it's always been important to us that doctors and nurses can use our Business Messenger intuitively. This is the only way to ensure that it is actively used in your clinic – and not only relieves your clinical staff, but also improves the care of your patients.
We are here for you
Do you have questions about Teamwire's features? Or are you considering our Business Messenger for your clinic and would like to schedule a meeting? Contact our sales team and arrange a demo appointment.