Push-to-Talk 1.0: First milestone of direct voice communication in a business messenger
Currently, direct and live voice communication via push-to-talk is only possible on radio frequencies or via digital radio. The integrated push-to-talk function transforms business smartphones into a digital radio or walkie-talkie with its own push-to-talk button. In the future, it is conceivable that bulky additional devices will no longer need to be carried. Because of its simplicity, push-to-talk is the most widely used – and probably the most popular – communication method for operational teams such as
Police and security services,
Emergency and rescue services (especially ambulance drivers),
Construction workers and tradesmen,
Logistics companies and warehouses,
Shipping, transportation, and delivery services,
Travel companies, airlines, and airports,
Employees in manufacturing plants and factories,
Service workers in the hospitality industry, large hotels, and at events,
Healthcare workers
How does push-to-talk work in Teamwire?
Push-to-talk chats are not group calls. They pursue similar goals, but are much more flexible. The microphone button in the upper left corner of the Teamwire inbox launches the push-to-talk user interface. Here you can select existing 1:1 and group chats or create new group chats for which push-to-talk is supposed to be activated.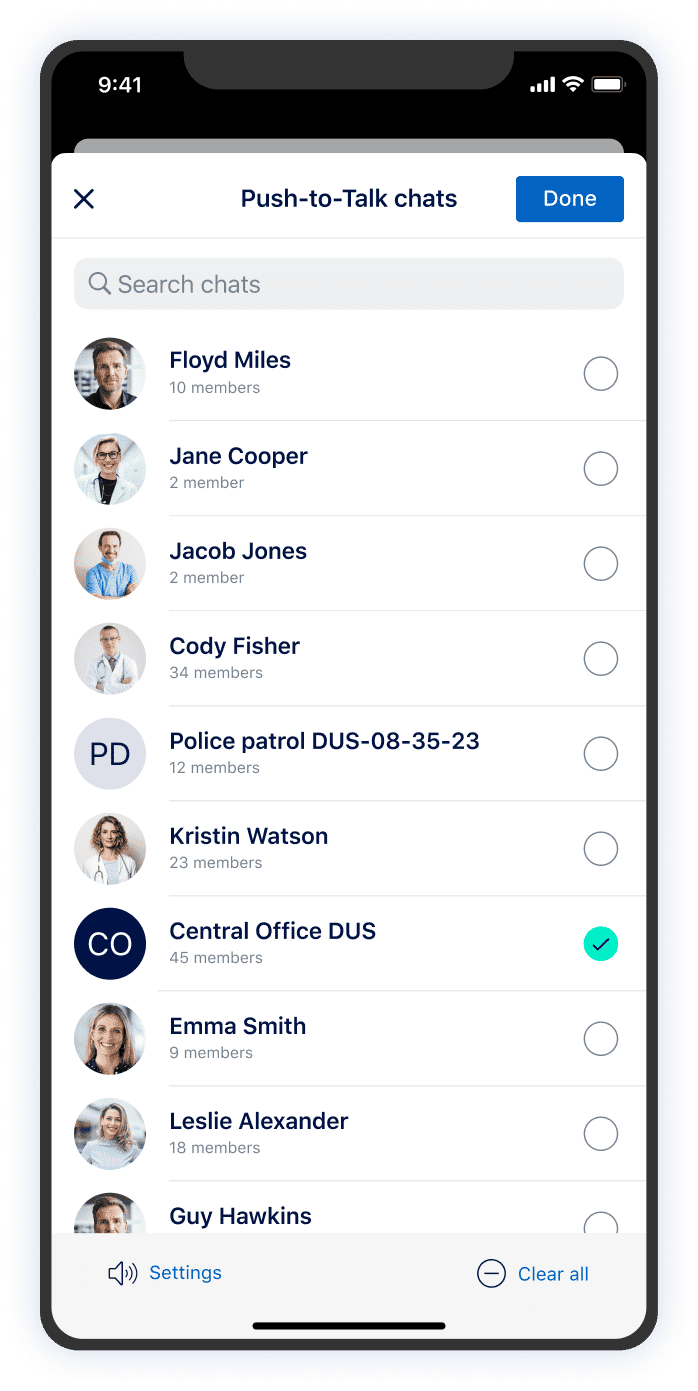 After selecting the chat, a large blue button appears, the push-to-talk button, which is used for voice communication. You can easily switch between the push-to-talk channels by swiping left and right. As soon as the user presses the button, voice recording starts. During the recording, which is limited to three minutes, the push-to-talk button has to be held. If it is released, the voice recording also ends.
However, the user does not stream his push-to-talk message directly, but first records it and uploads it to the backend. Only then is it distributed to the corresponding recipients or chats. This has the advantage that push-to-talk messages, like any normal message, are stored in the organization's archive and can therefore be retrieved at any time. At the same time, the prominent Push-to-Talk button creates a new user experience that simplifies the process of sending and receiving audio messages.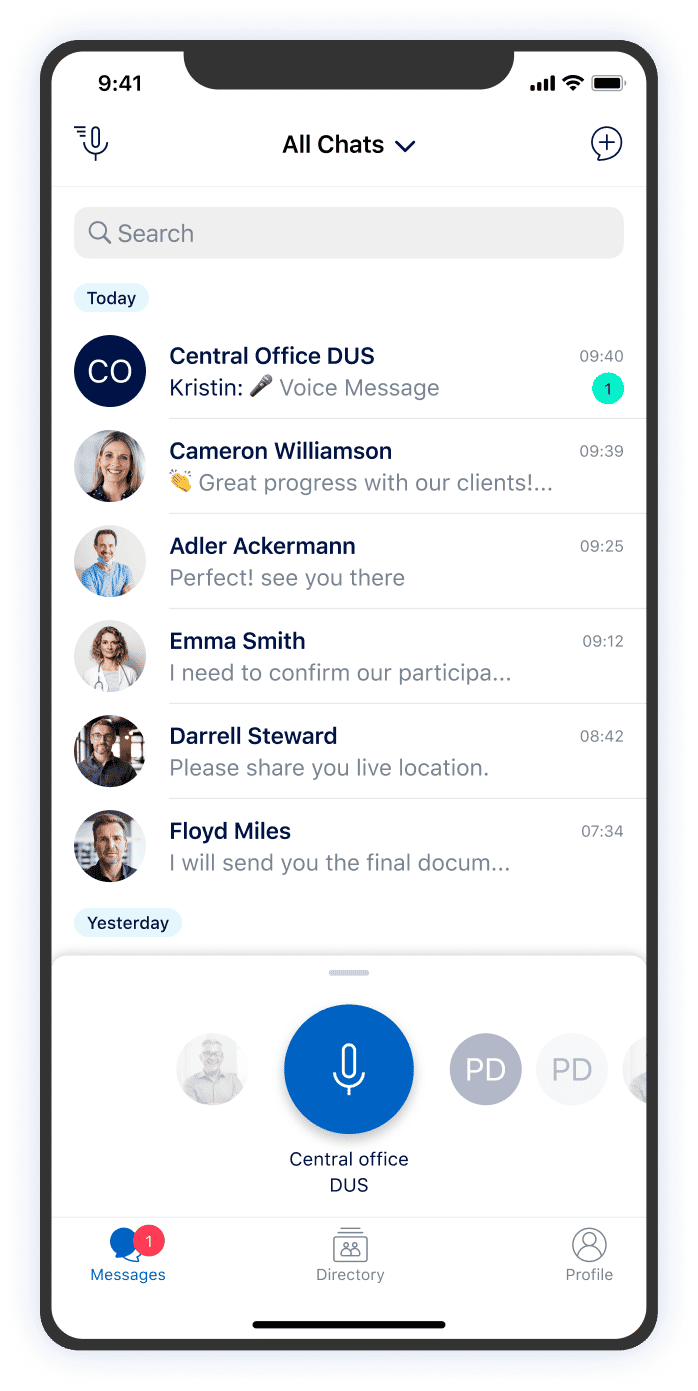 The push-to-talk feature is only available when Teamwire is open or in the foreground. When an audio message is received in the active Push-to-Talk channel, it is automatically played throughout the app. In turn, recipients can respond with voice messages by activating the push-to-talk button. If the user is in an active push-to-talk chat, they have the option to mute the audio messages or switch between internal and external speakers for their playback. The playback options can also be set via the inbox. If something goes wrong when sending a push-to-talk message, it can be discarded or saved as a draft in the chat to be sent at a later time. If the user receives an audio message while Teamwire is closed or in the background, it is marked as unread. As with all other chats, it is possible for the IT administrator to set individual communication rules for push-to-talk chats.
Push-to-talk application scenarios: A few industry-specific examples
As indicated earlier, push-to-talk is relevant for mission-oriented teams in a variety of industries:
Blue-light organizations
Large-scale incidents such as hostage taking, rampage and attack
Observations and pursuits
Major incidents such as demonstrations, events, and sporting events
Coordination of manhunts and searches for missing persons.
Emergency services
Coordination of ambulance rides to accident scenes and hospitals
Coordination of emergency situations on site
Coordination with dispatch and requests for reinforcements.
Construction
Arrangements or coordination at a construction site.
Construction material requests
Consultation with the project manager and planning office.
Logistics
Rapid coordination within a warehouse or logistics center
Advance or ad hoc coordination with delivery vehicles
Coordination of breakdowns or maintenance of machinery.
Delivery services
Coordination and consultation for deliveries
Changing delivery routes and orders at short notice
Ongoing management of mobile workforce
Tourism
Coordination of mobile teams and ground staff at airports.
Easy coordination of train crews during the trip
Ongoing exchange between headquarters and mobile personnel
Why integrate Push-to-Talk into a business messenger?
In the last few months, there has been a lot of hype around direct voice communication, so our customers inspired us to implement Push-to-Talk.
(Open) voice rooms – a new trend?
At the beginning of the year, a new app made a name for itself: Clubhouse. It is a mixture of social media and live podcast platform, where users communicate exclusively via audio. Clubhouse does not offer any functions for photos, video or text. There is also no option for comments or likes. The exchange takes place via public voice rooms, which users can join or open their own. It is also possible to set up closed voice rooms. However, not every user automatically has the right to speak. The so-called moderators lead the discussion by bringing participants "on stage" and elevating them to speakers. They can actively participate by contributing words. There are also listeners who simply listen to the discussion. They can signal to the moderators that they also want to contribute to the discussion by pressing a button. Similar to Clubhouse, Telegram has recently started offering open spaces for audio chats. This allows groups to be turned into voice channels where users can join in at any time. If audio chat is activated, a corresponding info bar appears above the chat. The user then joins the voice room. Buttons can be used to activate the microphone, mute oneself and other participants, and exit the audio chat.
Digging a little deeper, language spaces are anything but a new trend. If anything, they are a further development of an existing form of direct voice exchange. Because in their basic idea, they are strongly similar to digital radio or conversations via radios and/or walkie-talkies, which are primarily known from security authorities.
Traditional digital radio – pioneer of direct voice exchange and impetus generator
Blue-light organizations and security authorities such as our long-term customer, the Bavarian Police, are equipped with digital radios. They use digital radio, a uniform, nationwide network of all blue-light organizations, to guarantee holistic, digital voice communication. If you like, digital radio is nothing more than a large voice room – with the difference that only a selected group is able to communicate. To establish a conversation, the emergency responder must press the talk button, also known as push-to-talk (PTT for short), on the radio. The remote station then hears the user who is calling. While the sender is transmitting the message, the receiver cannot speak – and vice versa. This helps eliminate background noise and streamline communications. At the same time, it means that voice transmission and reception are separate.
While the great strength of the digital radio network lies in direct voice communication, it is not designed for broadband data transmission. This means that images, videos and detailed mission descriptions cannot be transmitted. This is one of the main reasons why police forces have been using our Business Messenger for several years, in addition to their digital radios.
With Push-to-Talk in our Messenger, we see a first step towards handling the entire communication process via one communication solution. Inspired by our customer, the Bavarian Police, and other market developments, we recognized the trend early on and now enable direct group voice communication. We help to further simplify internal communication – by combining it with other content such as text messages, images and videos.
The push-to-talk function will be available via the mobile app from CW 30. Since Teamwire is a cross-platform solution, there will also be a corresponding desktop solution. Here, we will enable audio chats with the first release. We are working towards ensuring that the function can be used cross-platform and in real time in the future.
We are here for you!
Would you like to learn more about Push-to-Talk and its capabilities? Then contact us today and book a demo appointment.