The entire function range now united with VoIP and video call
With business messengers, text, picture and voice messages are part of the standard repertoire of possible communication formats. VoIP (Voice over IP or IP telephony) is also becoming more and more common as a channel in daily work communication. Teamwire now covers all standard channels - including VoIP and video call - in the business messenger.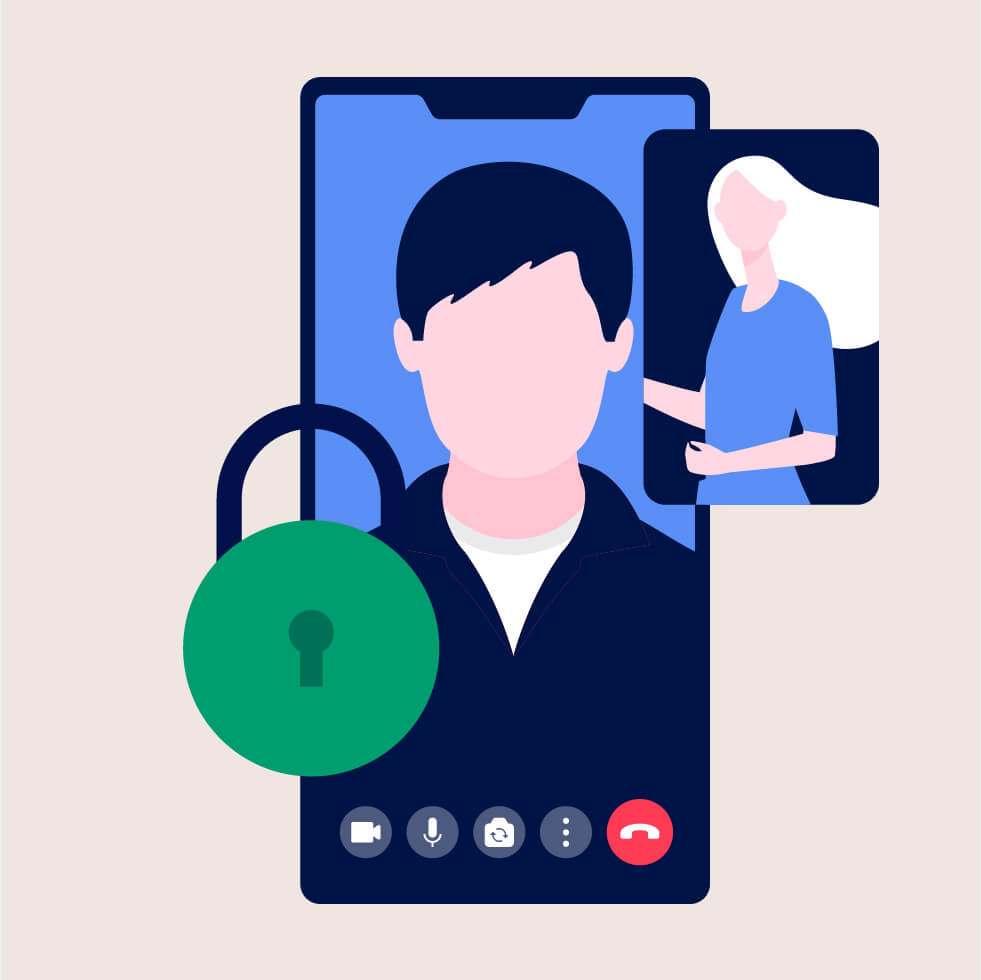 According to a survey by Bitkom Research (period March to April 2021), one communication medium stands out in internal and external corporate communications: almost 90% of all respondents use a smartphone very frequently. In this context, apps for video conferencing (67%) and messenger services (66%) are used via the smartphone in particular. Unfortunately, not all apps and communication solutions meet the data protection and data security standards for companies required under the General Data Protection Regulation. In addition, the more different communication solutions are used, the more complicated communication becomes and the more likely security gaps are to occur or remain undetected.
Teamwire now "all-in-one" with VoIP and video calls
Chatting, sending voice messages, making phone and video calls, and conveniently exchanging files – Teamwire makes all this possible with just one interface. After the voice message extension Push-To-Talk, the Business Messenger now also receives the VoIP or video telephony function. In contrast to text and voice messages, video calls and conferences allow for a more authentic exchange of information, as facial expressions and gestures can also be perceived. This is also what users appreciate about consumer apps such as WhatsApp, Telegram and Signal or video conferencing tools and collaboration solutions such as Microsoft Teams, Zoom and GoToMeeting. As of now, VoIP and video calling cross-platform will therefore be available in Teamwire for all mobile devices and for desktop apps.
How do VoIP and video calls work?
VoIP (Voice over IP) or IP calls refers to common voice communication via Internet protocol. In addition to an intuitive interface for simple handling, Teamwire guarantees the best possible use through appropriate functions.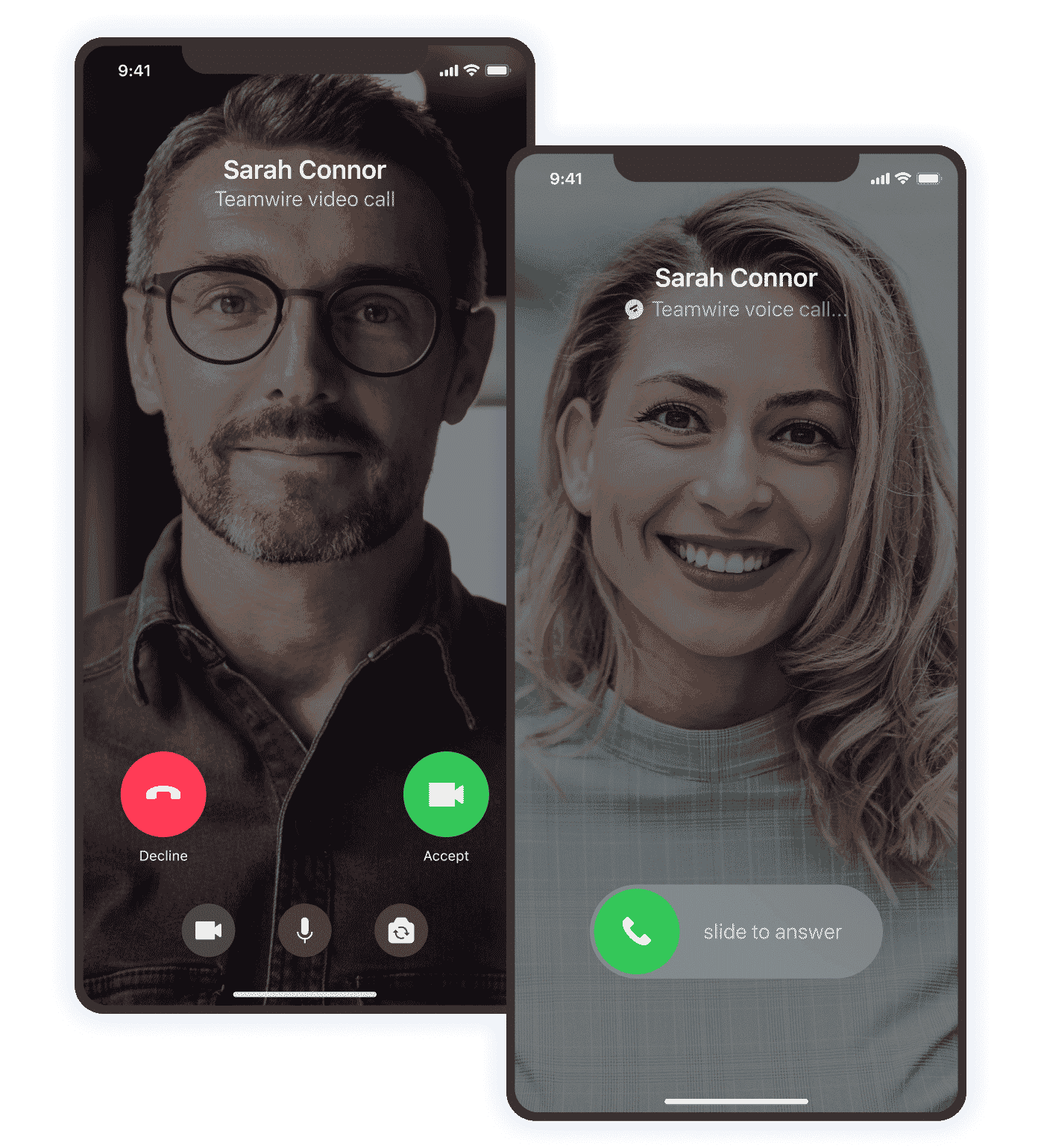 The possible usage options are:
Start and receive voice and video calls for iOS and Android devices, as well as for desktop and the web client.
Start voice and video calls – from any 1:1 chat or from a profile – with another contact within the Teamwire app
Selecting organization members easily from the Teamwire directory
Accepting voice and video calls from any device that has Teamwire installed – mobile and desktop
Receive calls even when the mobile device is blocked or the app is in standby mode
Enable audio-only mode to save bandwidth
Receiving notifications about missed voice and video calls
Ability to turn the camera and microphone on and off before an outgoing or incoming voice and video call, and also during an ongoing call
"Raise your hand" as an interaction sign to make yourself heard in video calls
To benefit from the functions on all devices, users should enable the use of the microphone and camera for the app in advance. However, the Teamwire app automatically requests this in advance. This way, users are optimally prepared.
Privacy and security for all communications
As with all other features in Teamwire, only the administrator takes over the management and can set both general and call-related user rights via the Teamwire dashboard. As a result, only authorized users can start and accept VoIP calls and join conferences. For all other users, it is directly visible in the app which users are "available" to use the new features. The administrator also controls data storage via audit logs. In addition, the high data protection and security standards that Teamwire already meets as a business messenger also apply to VoIP and video calls. This means that the complete protection provided by the Teamwire app works cross-platform on all mobile and desktop devices. Especially for regulated companies, public authorities and organizations with high security requirements, this ensures that all necessary compliance requirements are met.
VoIP and video calls: The benefits of the new functions at a glance
Organizations now only need one app for the entire communication needs
Teamwire thus allows simple and integrated communication across the organization via voice, text, image and video
Thanks to availability on smartphone, tablet and desktop, mobile and stationary workforces alike can be linked smoothly
Fast and automatic voice-image communication within an organization is possible via the app, even if no phone numbers are available
Teamwire users benefit from a better user experience
Encryption of all phone calls and video calls ensures the highest possible security
Control, data storage and rights management are not the responsibility of the users, but exclusively of the administrator
Application scenarios for the VoIP and video call function: brief scenarios
Making phone calls and video calls directly via Teamwire closes a gap in many individual communication scenarios. VoIP allows end-to-end, user-friendly communication across all industries, while meeting the highest security requirements.
Use case with the police
If a police department works on Teamwire, it is able to map the entire range of communication between emergency forces and the control center via Teamwire. If the police officers are on a mission, they can send moving live images of the situation to the operations center at any time, on which the decision for further action can be based. In addition, a police officer on the scene can directly place a 1:1 call – with or without video – to the control center and even add further participants in the course of the call.
Use case in the healthcare sector
If Teamwire is in use in a hospital, a care company or, for example, a nursing care facility, live images of wounds, injuries or changes in condition can be sent directly to a central contact person at the relevant institution for preventive measures, routine therapies and convalescents. Depending on the institution, direct 1:1 or group voice and video calls can be made between, for example, physicians, specialists, paramedics and nursing staff. In this way, emergency situations can be de-escalated and resolved more quickly by knowledgeable experts or the crisis team.
Use case in the building yard of a district or city administration
In the city or district administration, for example, building yard employees are able to send live moving images to the building yard management due to a changed situation or to start a video call with the building yard manager in the office. In this way, important issues can be clarified quickly and practically as well as processed directly on site – without the employee having to travel back to the authority again.
Conclusion
Whether in enterprises, government and public sector agencies, or healthcare and financial institutions, a fast, easy, yet secure flow of communication via text and voice messages, as well as video calls, is now a must for many organizations to enable employees to work together efficiently and collaboratively. Especially for decentralized teams or mobile and on-site workers in daily work communication across all industries.
We are here for you!
VoIP is automatically available to you with the API 16 release. Would you like to learn more about the features for VoIP and video telephony? Then contact our sales team today.